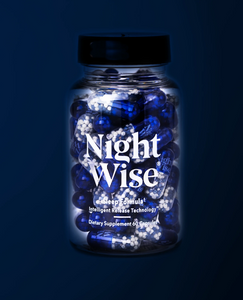 Two capsules a night for truly restorative sleep. Ingredients in NightWise promote this type of sleep by helping you fall asleep, reduce occasional sleep interruptions and improve sleep duration.
Trusted ingredients in NightWise have been used by millions of people world-wide to help their body meet its individual sleep needs.
Available as a monthly subscription for the most consistent results.
NightWise is a science-based consumer sleep solution made up of two capsules filled with tiny little beads containing the most trusted sleep ingredients nature has to offer and delivered in the perfect dose throughout the night to help you get the restorative sleep your body needs.
---
We believe that NightWise will work for you, but if for any reason you are unhappy with the product, we offer a full money-back guarantee less shipping. Simply reach out to us at

questions@nightwise.com

within 30 days of receiving NightWise.
If you order a subscription, our guarantee is only available on your first shipment of your subscription.
We appreciate the opportunity to make things right.
Our ingredients are a collection of the best nature has to offer. But ingredients are only as effective as their delivery. Other companies tend to overdose ingredients like melatonin, hoping that the dose will last through the night. NightWise gives you only what you need, when you need it, with the right dose intelligently delivered.


Casein decapeptide
Valerian root
Microdose melatonin
Lemon balm
Hops
Magnolia
Magnesium
L-Tryptophan The true brilliance of NightWise is our capsules. Made up of three phases of sleep aid, our Intelligent Release Technology™ actively shepherds your body through a restorative night's sleep.
PHASE

01
Quick-release layer activates
Within minutes, the capsule dissolves, and the quick-release ingredients enter the body. Just the right amounts of Magnesium, L-Tryptophan, Casein Decapeptide and Micro-dose Melatonin guide the mind and body to relax and fall peacefully to sleep.
PHASE

02
Control-layer activates
During the next 2-2.5 hours, our bodies don't need help to get great sleep. So the beads enter a control layer phase, slowly absorbing water until it's time to release the next round of ingredients.
PHASE

03
Burst-release layer activates
Over the next 4 hours, our beads start to burst, releasing just the right amount of Hops, Valerian root, Lemon balm, Magnolia and another microdose of Melatonin, reducing occasional sleep interruptions and improving sleep duration.
At NightWise, we're proud to say that the ingredients that make up our beads aren't breakthrough themselves - instead they're a collection of the best nature has to offer. We chose the best ingredients that have been used by millions of people world-wide for restorative sleep.

Casein decapeptide · Valerian root · Microdose melatonin · Lemon balm · Hops · Magnolia · Magnesium · L-Tryptophan
Casein decapeptide is a milk-derived protein fraction. Studies suggest it helps modulate stress and improve sleep by:
Promoting healthy neural activity

Relieving occasional stress
Reducing the time to fall asleep
Valerian root extract has been studied for its ability to reduce occasional sleep interruptions and improve sleep duration by:
Modulating both adenosine and GABA receptors
Enhancing GABA release and inhibiting GABA uptake
Gently stimulating healthy neural function
As the master hormone regulating sleep, melatonin is essential for good sleep. Studies suggest that supplemental micro dose melatonin helps you:
Fall asleep
Makes it easier for you to return to sleep after waking up during the night
Lemon balm extract has long been revered for its calming and soothing effects. Studies suggest it helps:
Soothe digestion, which may reduce occasional sleep interruptions
Reduce stress and promote relaxation, which may help you fall asleep faster
When used with other ingredients, notably valerian and lemon balm, studies suggest that hops helps with occasional sleeplessness and staying asleep through the night by:
Helping your brain better be able to sense when it is time for you to sleep
Magnolia plant has an ancient history in traditional Chinese, Japanese, and Korean medicine, and is used to promote healthy sleep and relaxation patterns. It has been studied for:
Relaxation-related benefits
Reducing stress, which may cause temporary interrupted or restless sleep
Low levels of magnesium can have negative effects on sleep, including:
Some restlessness, which may cause you to wake up occasionally in the night
Occasional disruption of circadian rhythms
An essential amino acid. Studies suggest it helps:
Help maintain sleep-wake cycles
Promote healthy levels of serotonin and melatonin
But until you do, here are the answers to some of the most frequently asked questions we receive.
IS NIGHTWISE® RIGHT FOR ME?
NightWise is the first and only sleep aid designed to work with our bodies' natural sleep rhythms. By providing you with more uninterrupted sleep, NightWise allows your body to naturally modulate the ratio between REM and deep sleep to meet your individual needs. If you've struggled with morning grogginess NightWise is right for you. Its combination of the most tested and understood ingredients inside our Intelligent Release Technology makes it safe, reliable and the ideal way to achieve restorative sleep.
HOW QUICKLY WILL IT START TO WORK?
NightWise will start to work the first time you use it. As you learn your own sleep patterns and habits, it will work with you to promote a consistent sleep environment.
DO I HAVE TO TAKE IT EVERY NIGHT?
NightWise is formulated with safe and non-habit ingredients and can be nightly or as needed. Consistent sleep patterns can create healthier sleep.
HOW WAS NIGHTWISE® TESTED?
Each batch of NightWise is tested for identity and purity so we can be sure that what's on the label is what's in the capsules. We use a third-party, independent lab to test each batch to ensure they are deemed safe by regulations.
CAN I TAKE NIGHTWISE® WITH ALCOHOL?
As with any product that helps your body to sleep, NightWise may cause drowsiness. Do not take NightWise with alcohol or other sedatives.
Find the answers to more questions see our complete FAQ PAGE.